Experience
13 years of experience in one page? Well I could write shorther than that! Hey, just a joke OKAY? 😉
But what could be a better way to story about oneself on his experience if not to understand his ability to do something right? Well to know where I began in a world of Multimedia Application. there is this wonderful private college that offers Multimedia Courses for anyone why would like to pursue their study in the field of Multimedia education. I thought this was it. This could be the ticket for me to soar even higher! 🙂 And after thirteen years of experience in the Multimedia industry, I still wanted to gain more and more of knowledge just to stay ahead and focus on my goal.
And I think I have become to my conclusion on what I must DO BEST in order to achieve my goal. And that is where I'm heading now. You know you have tasks behind you but you sure don't want to left them behind, and you add value to them. But it's important to have some kind of co-operation with other department. Because you know what, we need to build a network of friend to grow stronger in the future. And make sure you guys are in the same page as you are. And that's where we share our benefits together.
Ok, now let me share with you some of my experience before I became a Multimedia Producer. I think you would be thrilled if I told you that I was a RTG Crane Operator back then. Ahh..seems pretty weird right? But I had a good reason to go with it. Firstly, after I finished my study, I was searching for a job in Multimedia industry, but I'm the guy who prefer to work in my hometown. (doesn't mean that I hate travelling far away from home. Just a feeling to be closer with my mom and dad) And since Skudai does not offer much for a people like me with a Multimedia background so I decided any kind of job that could support my pocket money for a few years would be good. Secondly I live with my parent. I really don't want them to feel me as a burden right after finishing college. So I thought hey why not try something different. Something out from my areas of study, something new right? ;)And that's where my cousin told me that there is an opening at Tanjung Pelepas Port (PTP) as an Operation Trainee. Whup! I'm up for it! And take a guess! As a trainee you MUST cut your hair "potong no 1" as they refer to the style of haircut back then. Well I guess they had a good point for that! Namely when you gantry the crane to the left and right, crossing 90 degree or 360 degree. That's why short hair cut is a must! We don't want any PUNK ROCKERS with long hair gantry the crane. That would be insane! thehehe…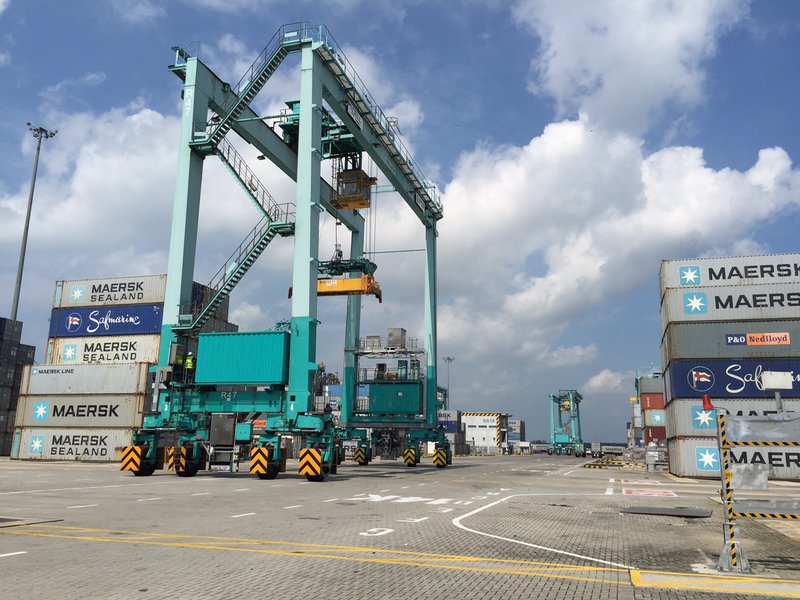 So the training last about 2-3 months if I'm not mistaken. During the training we rode with many skilled operators who keen to shared their experience while operating the crane and port operation as a whole. Many of us agree that the best part of training was to actually feel the real-life as RTG Crane Operator than the theoretical lessons. Hehe..but we did got the best instructor/facilitator during the class. My respect goes to all of them! I have to confess here, I'm not very good in fact I could say very bad when it comes to Electrical & Engineering education. But those lessons they gave really put me up to a knowledge where I could start the RTG engine, tilting the spreader for balancing, knew when the time for making 90 degree or 360 degree turning, working with 20ft and 40ft spreader, working with Over Height Frame, the structure of RTG, working in reefer block and many-many more! Those are the kind of knowledge you couldn't get for free! And I must say, before completion of the training, I could finally ride and operate the RTG like the pros did! You know why? Because that was your job every day as an Operator, lifting container, doing housekeeping until you get very fast with your movement. The faster the better, but SAFETY MUST COMES FIRST!
During my time at PTP, the development of 2nd phase block were up and running as usual. So I got the chance to gantry the RTG from 1st phase to 2nd phase safe and sound. Do you know what it feels like to work in a port at night? With the spotlight as bright at the stadium, prime movers moving from one block to another, all of them working very hard to ensure the smoothness of operation within the port. As RTG Operator we have our own schedule for the whole day operation. They use this technique called Ranking A, B, C, D to determine which RTG number the operator, operates. The best Ranking is of course Ranking A. You ride two RTG, morning and afternoon for day shift, finish your duty at 5:30pm. Walaa..that's why many operator really like the Ranking A. For Ranking B and C. the Operator will ride the Crane three times a day. Ughh..imagine climb up, climb down, going back at 7:00pm. But that's just the way how it works at a port. For Ranking D, almost the same as Ranking A, but you finish your duty at 7:00pm.
But some of the time while I'm up there at the RTG with no job display on the screen with both my hands behind the head and staring towards what my future gonna be, I always wonder, for how many years I want to work at a Port with day/night shift? I really like to use my Multimedia application knowledge in a normal working office hours so that I could have a rest at night. That's the hardest part for me! I guess ,my pray were answered! But before I tendered my resignation letter as an RTG Operator, I push myself to make one last stand opportunity to give myself a try, can I become part of PTP staff? I really wanted to apply for the position as Yard Control, you know the guy at the Operation Centre who gives you order to gantry the RTG here and there, what location and container you must carry/unload. This is just as normal an office job! So I wrote down my resume and send them email stated my experience knowing the port very well. And they scheduled for an interview! Walaaaa…good news for me! The interview runs very smoothly. I even saw my schoolmate and Yard Supervisor who also work in the operation centre. OMG they didn't notice me as a contract staff of PTP? From what I've heard, contract staff cannot apply a job as a PTP staff. I want to prove them wrong. And I got the job offer. But at the same time, I also were receive an offer from UTM as a Producer. OMG! This is really GOOD NEWS!



Multimedia Application, FCPX, AE, Audition CC, Logic Pro X, Focusrite, Lexicon, DBX, Aphex, Yamaha, Apple, Scriptwriting, Video Editing, Camera Direction, Directing Mixing,