KUALA LUMPUR, 4th OCTOBER 2017– Azman Hashim International Business School, Universiti Teknologi Malaysia (Azman Hashim IBS) and Yayasan Muhibah Tan Sri Fng Ah Seng collaborated for the first time to implement and promote a prestigious entrepreneurship beyond boundaries programme. The programme is under the flagship of Professor Tan Sri Dato' Paduka Dr. Fng Ah Seng, Jp has an absolute vision to enhance society well-being, reduce poverty, and uplift economy. The programme was launched in October 2017 by Professor Tan Sri Dato' Paduka Dr. Fng Ah Seng, Jp at Universiti Teknologi Malaysia Kuala Lumpur.
To drive the programme forward, two phases are put in place. Firstly, entrepreneurs will be selected to undergo a series of business development course and entrepreneurial training. To begin with, 30 entrepreneurs will be selected from the Klang Valley to join the programme from October to December 2017. In this phase, the entrepreneurship beyond boundaries team will develop training materials, e-portals, recruit entrepreneurial talents, appoint trainers, and disseminate programme reports throughout the 3 months. Following this, in the second phase which runs from January 2018 to December 2022, the same programme will be conducted in few underdeveloped countries, including Bhutan, Pakistan, and Indonesia where job crisis are at peak and with rising unemployment rates. Entrepreneurs who participate in this programme will have the opportunity to enhance their knowledge and grow their business. More importantly, participants will benefit through the mentoring, knowledge sharing, and free business advising- what money can never buy!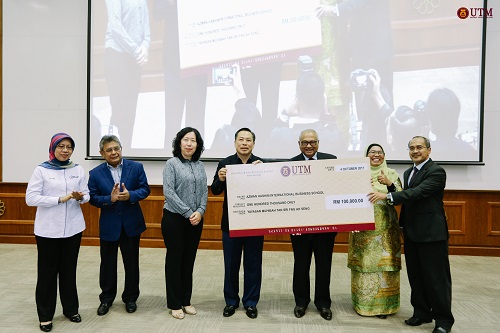 Azman Hashim IBS today received a donation of RM100,000.00 from Yayasan Muhibah Tan Sri Fng Ah Seng to support the first phase of the entrepreneurship beyond boundaries program. Since its inception in 1997, Azman Hashim IBS has been producing graduates with innovative and entrepreneurial skills for a wide range of organizational, industry and cultural contexts. Azman Hashim IBS is committed to the development of innovative and entrepreneurial leaders for the global markets, who contribute to the advancement of knowledge, and contribute to the societal wealth and well-being and collaboration such as the one with the Yayasan Muhibah Tan Sri Fng Ah Seng, will materialize the school's mission.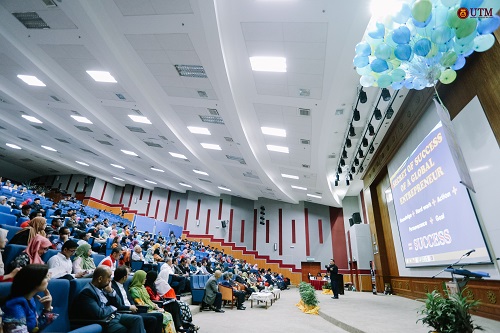 On the same occasion, Tan Sri Dato' Paduka Dr. Fng Ah Seng, JP, the billionaire philanthropist, most pleasant, humble and full of positives vibes has shared with great length on his life time experience to be succeed as an entrepreneur.  The talked was shared in front of more than 300 participants. The topic shared was on Building Future Entrepreneurs.
Tan Sri Dato' Paduka Dr. Fng Ah Seng, JP, is the Founder and Chairman of Epic Valley Holdings Group and also the Chairman of Yayasan Muhibah Tan Sri Fng Ah Seng. Tan Sri Dato' Paduka Dr. Fng Ah Seng is a well-known philanthropist who contributes part of his business profits towards the society. Tan Sri Dato' Dr Fng Ah Seng personal life is a rag to riches story. Since 2006, he has donated more than 5 million Malaysian Ringgit yearly for charitable and educational causes. Hence, this is in line with his believe in giving back to the society through practicing his Corporate Social Responsibility (CSR).
He has officially set up the Yayasan Muhibah Tan Sri Fng Ah Seng, an equal opportunity charitable foundation to help the poor and needy regardless of their race, religion, national background, age, gender.