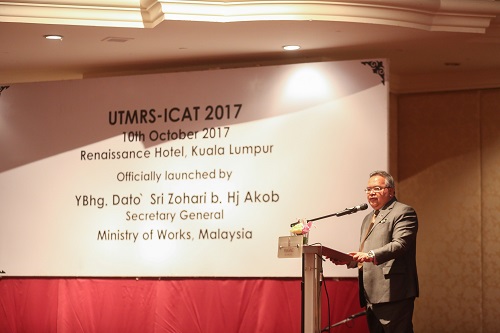 Kuala Lumpur, 10 October 2017:- UTM Razak School of Engineering and Advanced Technology, Universiti Teknologi Malaysia (UTM), Kuala Lumpur held an international conference called the International Conference on Advanced Technology 2017 or known as ICAT 2017. This international conference was held on 10 October 2017 at the Renaissance Hotel, Jalan Sultan Ismail, Kuala Lumpur. The ICAT2017 was officiated by YBhg. Dato' Sri Zohari Bin Haji Akob, the Secretary General, Ministry of Works, Malaysia. The first ICAT2017 is a combination of three international conferences held simultaneously which are; '3rd International Conference on Human Capital and Knowledge Management (ICHCKM)', second, the '2nd International Conference on Sustainable Urban Landscape Design (SUDLiC)' and the third conference '1st International Conference on Sustainable Infrastructure (SustaIN)'. These three conferences promoted current issues relating to human capital, knowledge management as well as urban landscape designs and sustainable infrastructure. This conference provided the space and platform for presentation papers and participants to discuss current issues.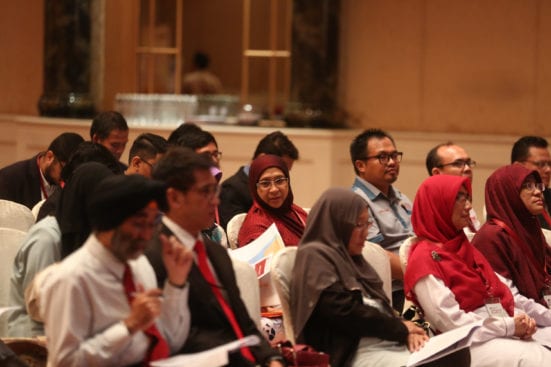 The presenters and participants of the conferences were from within and outside the country such as from Thailand, Indonesia, India, Pakistan, Nigeria, Japan, United Arab Emirates and from United Kingdom. Most of these presenter and participants included academicians and professionals who have an in-depth interest in the related issues. For this conference, 88 scientific papers were presented. Among the topics  presented in this conference include issues such as sustainable design and construction, technology and innovation, road and sustainable transportation systems, recycling and renewable energy towards low carbon, environmental impacts from sustainable development, sustainable facility services, policies in sustainable development and many more.
Apart from the presentation of papers by academics and professionals, the conference also held a forum where participants from all three conferences gathered with respectable panelists. The title of the forum was 'Sustainable Development Goal 2030 – The Challenges of Sustainable Development Realising Dreams from Realities'. Three key panelists were invited to make this forum a success. They were, Yang Berbahagia Tan Sri Datuk Zulkefli A. Hassan (Chairman of Board of Governors, Universiti Sains Malaysia (USM)), Prof. Ir. Dr. Ade Sjaruddin (Civil Engineering, Institut Teknologi Bandung) and Dr. Shuhana Shamsuddin (former urban design lecturer, UTM).