JOHOR BAHRU, 18 December 2017 – Ending a year end by winning a reputable award is a great moment. For Dr Yeong Che Fai, the year 2017 is full of sweet memories. He won several awards in national and international competition and exhibition.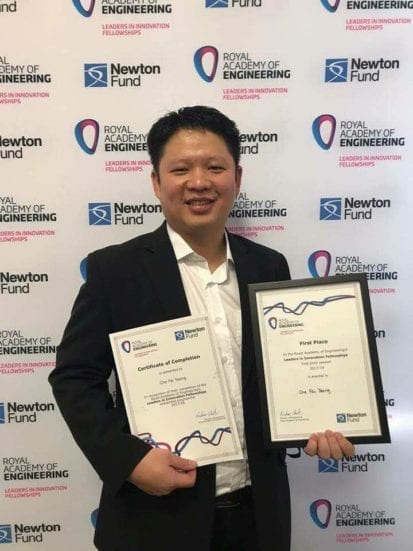 An academician from Faculty of Electrical Engineering (FKE), Universiti Teknologi Malaysia (UTM) stand tall after grabbing first place in the  Royal Academy of Engineering's Leaders in Innovation Fellowships final pitch session 2017/18 sponsored by Newton – Ungku Omar Fund.
Dr Yeong Che Fai won the first place presenting his research product Compact Rehabilitation Robot (CR2) to improve stroke rehabilitation.
The product has underwent clinical trial and currently sold to China.
Dr Yeong is a serial entrepreneur and has mentored and collaborated with several start-ups and companies in entrepreneurship world such as www.techcareinnovation.com, www.dfautomation.com, www.i-stone.com.my, www.cytron.io, www.charbycharge.com, www.deltaglobal.com.my and www.sandwichmultimedia.com.