By : Amirul Hazimi Abu Bakar, Dr. Sheela Chandren & Dr Nor Ain Husein
In an era where technology is constantly changing, the importance of keeping up should not be understated. The ability of a society to compete in the future is directly proportionate to its ability to guide their young. With this in mind, on the 1st of October 2017, an activity was organized to help secondary school students develop and enhance their skills and knowledge on electronics, mechanics and computer programming named "Home of Arduino". This is a part of a service learning program organized by the Faculty of Science, Universiti Teknologi Malaysia (UTM), called Jelajah Sains 3.0 (JS 3.0).
JS 3.0 is a STEM-based (Science, Technology, Engineering and Mathematics) program, a platform for UTM students and lecturers to contribute to the society. For this particular part, Form 1 students were chosen to be illuminated on the importance of STEM in their lives through interactive projects.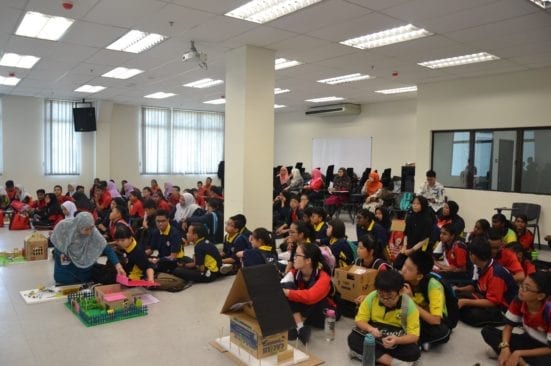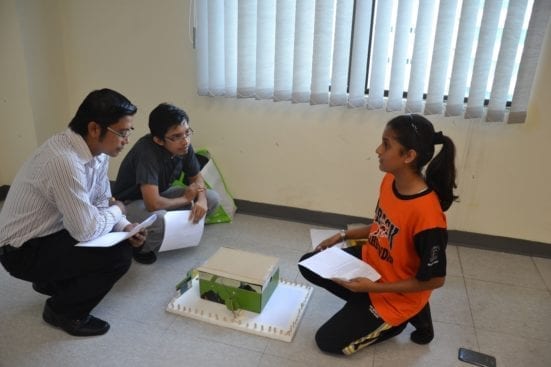 JS 3.0 was organized collaboratively between Faculty of Science, UTM, Jabatan Pendidikan Negeri Johor (JPNJ), Yayasan Penyayang MPJBT, Centre of Engineering (CEE) UTM, UTM Alumni Liason Unit, Pejabat Menteri Besar Johor, Pusat Ekuin UTM, Southern Drone Racing Club and UTM PV Edukit. There were seven schools involved in this program (SMK Skudai, SMK Taman Universiti 2, SMK  Impian Emas, SMK Damai Jaya, SMK Selesa Jaya 2, SMK Dato Abdul Rahman Yassin, SMK Taman Tun Aminah) where 15 students from each school joined JS 3.0 for one of the slots, which is Home of Arduino. JS 3.0 promotes and develops students' knowledge through science and technologies, parallel with the objectives of National STEM Movement to develop STEM in Malaysia.
Home of Arduino module was developed by a group of students from UTM, led by Md Nazrul Khan Bin Md Shaharudin Khan, a third year student from Bachelor of Science (Physics) program, together with his team which included volunteers from Faculty of Electrical Engineering and Faculty of Computing, UTM. This team of 20 served as facilitators for the participants during the Jelajah Sains 3.0 made excellent use of their knowledge by practising and imparting them to the students via hands-on activity.
 105 school students were challenged to complete a task in this 5-hour activity in which they needed to build a working model of a house that utilizes technologies that could make lives better and comfortable. This activity challenged them to apply basic electronic circuits, programming and mechanical knowledge taught to them in the previous series of Jelajah Sains (held during STEM day on the 20th of July in UniKL MITEC, Masai).
STEM Day was a festival-like program organized by Faculty of Science together with Jabatan Pendidikan Negeri Johor (JPNJ), Yayasan Penyayang MPJBT, Centre of Engineering Education (CEE) UTM, UniKL MITEC Masai, UiTM Pasir Gudang, Kolej Tuanku Canselor UTM and the main organizer of Iskandar Festival Learning 2017, Wilayah Pembangunan Iskandar (IRDA).
The module consists of three parts, the programming, electronics and mechanics. First, Home of Arduino takes a step further from what the participants have learnt in school; which is drag and drop technique via Scratch software, where one could use certain pre-coded commands and set them in the sequence that they need. Arduino on the other hand, is a chip that is integrated with its own software which is more intricate.  Despite that, the participants showed their capability to comprehend and subsequently practise what was shared. The participants definitely enjoyed the sharing sessions, and they got a first peep at the language that computer programmers use, along with the ethical responsibilities that should follow. Who knows we could be nurturing the next Steve Jobs or Bill Gates through this module.
Pn. Siti Norul Azizah bt Abdul Wahab, one of the teachers from SMK Impian Emas who accompanied her students to this competition commented that the students enjoyed the program tremendously as they got to learn a lot of new things. In fact, she added, the students requested for more programs like this and to extend the duration of the program. The excitement was clearly shown in the faces of her students throughout the competition. Interestingly, Pn. Norul was actually an alumni of UTM, from the Faculty of Education.
In the second part of this module, the understanding and application of electronics knowledge was challenged. This part introduced the polarity of each components, the electronics board and how the circuit functions. One of the aims of this module is that the participants would be able to understand and practise what they learnt, long after the program has ended.
 Seven groups prepared a model of a house with a smart system, which includes the control of the gates, lights and buzzer in the house. The evaluation was done by judges, academicians from UTM based on their house built and presentation, including their ability in answering questions from judges. For Home of Arduino competition in Jelajah Sains 3.0, the champion was…. Congratulations!
The Home of Arduino proved that students are able to master technical skills and knowledge at a young age and it could be a platform for university students to contribute to the community from what they have learnt at UTM.
In order for a society to be able to compete in the future, it has to be equipped with the knowledge and skills. This can only be attained if the transfer of knowledge is done efficiently in each level of society, in line with the country's goal to achieve a developed status. It is hoped that Home of Arduino in Jelajah Sains 3.0 met its objective to be one of those efforts.