JOHOR BAHRU, 17 April 2018 – A total of 73 industrial representatives and organizations are participating in the Career Carnival 2018 and My Career @ MOHE held by Universiti Teknologi Malaysia (UTM) in collaboration with the Ministry of Higher Education Malaysia (KPT).
The two days programme which ends on April 18th, 2018 is held at Dewan Sultan Iskandar (DSI), UTM Johor Bahru campus. This Career Carnival has been held annually with the aim to provide opportunities for graduates and graduating students to initiate their future path.
The Director of UTM Career Centre, Assoc. Prof. Dr Othman Ibrahim said that besides providing a platform for students to land a job, this programme also gives an opportunity to the employers to seek suitable and qualified employees among the graduates.
"The objective of Career Carnival and MyCareer @ MOHE was to provide students with the opportunities to get their favourable career that suits their qualification and preferences. Besides bringing benefits to the job seekers among final years students and third years students who are looking for an internship, this programme also strengthened the university-industry relation which at the same time enable students to inquire information in the professional world and be prepared for the upcoming challenges that await them in future," said Prof. Othman.
Assoc. Prof. Othman was saying that after an opening ceremony held at Senate Hall. The opening ceremony was completed by Deputy Director General Higher Education (Public Universities), YBhg. Prof. Dr Noor Azizi Ismail. Also attending the ceremony was Deputy Vice-Chancellor (Student Affairs), Prof. Dr Durisshah Idrus.
From the previous record of this carnival, each of the carnivals was successful since the percentage of students being employed was heightened.
"UTM has recorded the highest percentage of graduates that gainfully employed within three months after graduation which is 81.6 percent in the year of 2014. This clearly showed that university graduates are the key element for the development of the country. Thus, it is essential to organize the carnival annually as a platform for university graduates to seed for their future jobs upon graduation," said. Assoc. Prof. Othman.
Among the activities carried during the program were the interview, career talk, exhibition and entrepreneurial talk.
"Students are encouraged to attend the interview in order to boost their confidence by speaking face-to-face with their potential employers and also asking questions about latest jobs requirements in the industry to the prospective employers. Besides exposing students to the work field, this also provides opportunities to the participating companies that are seeking qualified candidates employees to fill their vacancies," he said.
Prof. Durrishah also signed the Memorandum of Understanding (MoU) with three participating companies to established collaboration in the field of Job Opportunity, Research and Development (R&D) as well as Career Developments with UTM.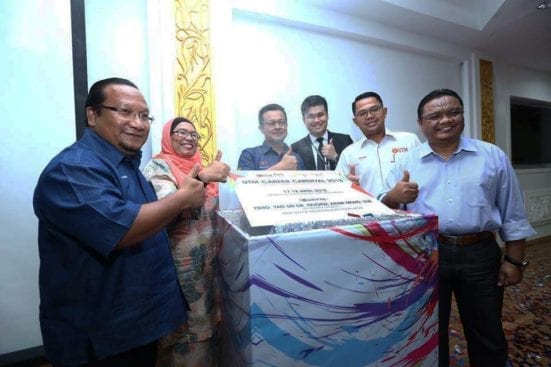 Prof. Durrishah (second left) with Prof. Noor Azizi Ismail (fourth right) during the launching ceremony of UTM 2018 Career Carnival at UTM Senate Hall, Johor Bahru campus yesterday.