JOHOR BAHRU, 10 April 2018 – It is important for the nation to groom its young professionals to be globally competitive through continuous learning and development in this borderless world as opportunities will rise along with the competitions.
In this regard, Gamuda Berhad, a local engineering, property and infrastructure company, began offering the Gamuda Scholarship to provide eligible students access to tertiary education locally and internationally.
A Universiti Teknologi Malaysia (UTM) civil engineering graduate, Muhammad Musaddiq Abd Manap said when he was first awarded the scholarship in 2012, he was confident of achieving greater heights in his career.
"I applied for various scholarships but when I saw the offer from Gamuda, I grabbed it immediately because it provides a competitive package for graduates. Plus, the company really invests in its people. Apart from covering tuition and living expenses, Gamuda also guarantees employment for its scholars, taking the stress of securing employment away from our minds," said Muhammad Musaddiq at Gamuda headquarters in Selangor recently.
Muhammad Musaddiq is serving as an engineer with the Underground Tunneling Department based in Bandar Malaysia North and take pride in his contribution towards the nation's growth and development. "It has just been two years since I officially joined the Group but it has been a steep learning curve for me. Some of the experiences gained are invaluable including one that involves constructing the underground tunnels and operating the Variable Density Tunnel Boring Machine (TBM) for the SSP Line," said Muhammad Musaddiq.
This scholarship initiative goes beyond Gamuda's CSR goals as it contributes to meeting the country's aspirations and address issues that hinder efforts to build talents such as youth unemployment and lack of skilled manpower.
Similarly, Gamuda scholars are presented with growth opportunities in areas such as engineering, construction, municipal and town planning, real estate and human resources as well as accounting after graduation.
Given that Gamuda is involved in major infrastructure and property development projects, scholars are exposed to possibilities that could accelerate their career maturity as they work on nation building developments that define their talent and capacity.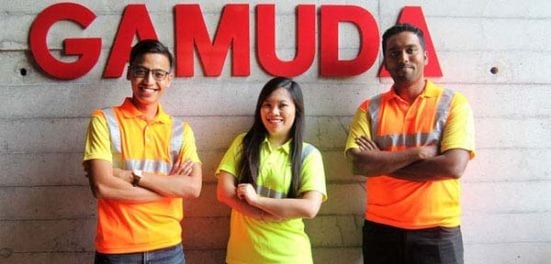 Muhammad Musaddiq Abd Manap (left), with Tiew Lian Sze (centre) and Puganesan Thiruselvan (right). Tiew and Punagesan also were the reciepient of Gamuda Scholarship and currently served with the company. (Picture courtesy from Borneo Post Online)