KUALA LUMPUR, 2 May 2018 – The Malaysia-Japan International Institute of Technology (MJIIT), Universiti Teknologi Malaysia (UTM) and Japan International Cooperation (JICA) signed the 'Record of Discussions for MJIIT UTM 2nd Phase Technical Cooperation Project Agreed upon between Universiti Teknologi Malaysia and Japan International Cooperation Agency.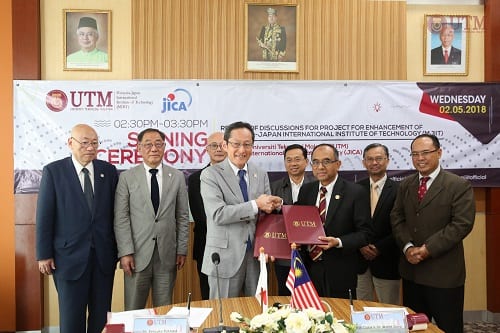 In keeping the momentum from the years before, the Record of Discussions for MJIIT UTM 2ndPhase Technical Cooperation Project Agreed upon between Universiti Teknologi Malaysia and Japan International Cooperation Agency was signed by Prof. Datuk Ir. Dr Wahid bin Omar, Vice Chancellor of UTM and Mr Kensuke Fukawa, Chief Representative, JICA Malaysia Office.
The memorable signing was witnessed by Mr Orikasa Hiroyuki, Minister of Japan to Malaysia, Mr. Ogawa Koichi, President of Japan-Malaysia Association, Mr Moribayashi Takashi, Vice President of Japan-Malaysia Association, Prof. Datuk Dr. Ahmad Fauzi Ismail, Deputy Vice-Chancellor of Research & Innovation UTM, Prof. Dr. Shamsul Sahibuddin, Pro-Vice-Chancellor of UTM Kuala Lumpur and Prof. Dr. Ali Selamat, Dean of MJIIT.
An exclusive signing session was arranged to commemorate the long-standing partnership and cooperation between UTM through MJIIT with JICA. This will mark the beginning of a Project Period of five years between MJIIT and JICA, which is known as the Second Phase of the G-to-G project between the Government of Malaysia and Japan, respectively. The First Phase of Project was initiated for the period of 2010 until 2017 whilst the Second Phase of Project will continue from 2018 until 2023. The Second Phase Project aims to strengthen the Japanese-oriented Engineering Education and research at MJIIT through cooperation with Japanese Universities and industrial partners. In this regard, MJIIT hopes to develop human resources and capacity building that will contribute to the industrial sector of neighbouring ASEAN countries in the future.
The Second Phase Project will establish and strengthen the following elements inclusive of laboratory-based education (LBE) at designated iKohza laboratories, sustainable collaboration with Japanese Universities in education and research as well as industry collaboration. In this Project, MJIIT aims to develop human resources and capacity that will further contribute to the industrial sector of ASEAN countries in the future. To date, MJIIT has received 48 ASEAN students coming from Indonesia, Vietnam, Cambodia, Thailand and Myanmar under the JAIF scholarships, amounting up to USD 2 million. 22 students had completed their postgraduate studies, whereas 26 students are in the pipeline to graduate. By the year 2023, MJIIT aims to heighten the number of graduates, expecting up to 3000 students.
Various academic and cultural activities have been conducted throughout the years of partnership between MJIIT and JICA. The Japan Day 2017 took the participants by storm with special and unique Japanese Budo demonstration supported by the Japanese Embassy and the Nippon Budokan Foundation in conjunction with the 60th Anniversary of the Establishment of Diplomatic Relations between Malaysia and Japan. The event was officiated by Yang Berhormat Dato' Seri Idris Jusoh, Minister of Higher Education Malaysia and attended by His Excellency Dr Makio Miyagawa, Japan Ambassador, Embassy of Japan in Malaysia.
In addition, UTM through MJIIT was proud to host renowned speakers such as Dato' Akihiro Nikkaku, President of Toray Industries Inc. Japan. UTM is truly honoured to be the first Malaysian University to host him in the Leadership Lecture program at UTM Kuala Lumpur. Industries from Malaysia, such as Perodua and Proton, also contributed to the sharing of industry-based knowledge through both lecture series and industrial grants. MJIIT also received full support from the Japanese-based industries such as Takasago Thermal Engineering, Rohm-Wako, Daikin and Toyota in continuing to enhance the capacity, knowledge, innovation and nurturing the future leaders in the engineering field among Malaysians.
Continuing the momentum of supports by working with leading engineering organisations in Malaysia and Japan, MJIIT organized the Fourth Career Fair 2018 which intends to offer opportunities to the prospective graduates in landing their dream career. Moreover, it offers a platform to learn all about the corporate world, as part of the concerted efforts for career development support for the students. The Career Fair 2018 had successfully gathered 37 top performing, experienced engineering companies in a casual and engaging setting, allowing the students to submit their professional credentials on-site and taking advantage of the walk-in interviews provided during the event.
Earlier this year, Prof. Dr Ali Selamat has signed the Minute of Meeting between MJIIT and JICA on the evaluation of MJIIT Phase One progress and achievements.