KUALA LUMPUR, 16 February 2017 – A group of 21 students and two lecturers from Universiti Teknologi Malaysia (UTM) Kuala Lumpur have been invited to visit the Huawei Customer Solution Innovation & Integration Experience Center (CSIC) at the Intermark, Kuala Lumpur.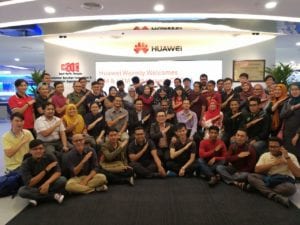 This exclusive invitation was offered only to students from UTM and Universiti Malaya (MU), with the aim of exposing them to Information and Communications Technology (ICT) and future career prospect opportunities in Huawei. Together in the visit were representatives from the Industrial Relations Department of the Ministry of Higher Education Malaysia, a government entity dedicated to strengthening academic and industry relationships.
During the visit, an informative session introducing Huawei was delivered to the students, focusing on Huawei's local and global operation, business, mission, vision and the niche skills required to be employed by this ICT giant. Then, under the motto "seeing is believing", students and lecturers experienced firsthand innovative applications and services leveraging the Huawei innovative platform, illustrating a very good example on how to build bridges between theory and practice.
Huawei CSIC was launched by Prime Minister Datuk Seri Najib Razak in October 2016 towards making Malaysia's aspirations of becoming an ICT regional hub a reality and consequently driving the industry's open ecosystem and accelerate digital economy transformation in Malaysia.