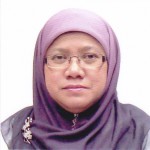 Norliza Mohd Noor is currently attached as Associate Professor in UTM Razak School of Engineering and Advanced Technology, Universiti Teknologi Malaysia (UTM), Kuala Lumpur Campus.  She received her B. Sc. In Electrical Engineering from Texas Tech University in Lubbock, Texas and her Master of Electrical Engineering (by research) and PhD (Electrical Engineering) from UTM.  Her research area is in image processing and image analysis. Her current work concentrates on medical image analysis for lung diseases.  She has published many papers in journals and in indexed conference proceedings, and has published one academic book and two book chapters. Currently she is the Head of the Electrophysiology Research Group., UTM Razak School.
 She is a senior member of IEEE  (since 2008) where she has been a member for more than 25 years starting as student member while studying in USA.  In 1998-2001, she held several key positions in IEEE Malaysia Section. She is the founding chapter chair for IEEE Signal Processing Society Malaysia Chapter in 2002 and she held the position till 2006.   She is an active IEEE volunteer and held key positions in IEEE Signal Processing Society Malaysia Chapter and IEEE Engineering Medicine and Biology Society Malaysia Chapter till now.  She is an active member of IEEE EMBS, SPSoc, and IEEE Women in Engineering WIE (affinity group).  
She was elected as the IEEE Malaysia Section Chair for two years 2013-2014.  During her tenure as the IEEE Maalysia Section Chair, the IEEE membership in Malaysia grew from 2880 to slightly more than 3500 members. 
She was appointed as IEEE R10 Individual Benefits and Services Coordinator and MGA Geographic Unit Operations Support Committee – Technical Chapter Representative (2015-2016).
Currently she is in the IEEE Members Benefit Portfolio Advisory Committee (MBPAC) and IEEE Educational Activity Board (EAB) – Student Educational Resources Committee (SERC) for 2017-2018.
She has co-organised many IEEE conferences in Malaysia under these two chapters.  In 2014, she was the co-chair for IEEE Region 10 Symposium (TENSYMP2014) that was held in Kuala Lumpur.    
She is the General Chair for 2017 IEEE Region Ten Conference (TENCON2017).
She is the General Chair for 2018 ICBAPS, 2018 TAFGEN and 2018 ICSSA which are UTM Razak School conferences in collaboration with IEEE Malaysia Signal Processing Chapter, IEEE Malaysia ComSoc/VT Chapter and IEEE Malaysia Instrumentation & Measurement Chapter, respectively.