February 25, 2018 by Office of Corporate Affairs
Assoc Prof Dr Norhayati Abdullah was conferred the Top 50 Most Impactful Leaders in Water & Water Management (A Global Listing) award during the World CSR Day event held at the Taj Lands End Hotel in Mumbai, India recently.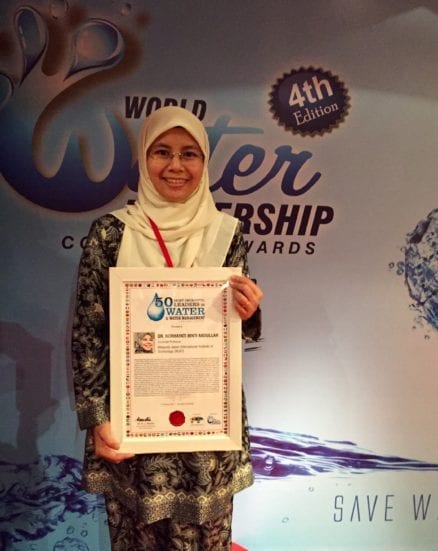 The World CSR Day is the largest rendezvous of CSR Leaders gathering 1200 professionals from 133 countries.
The conference aims to provide like-minded leaders a common platform to enhance knowledge, network and engage in meaningful discourse and discussions.
Norhayati was nominated for the award by a team of independent juries representing the water and water management expertise from all over the world.
The conferment of award was ceremoniously done at the end of the 4thWorld Water Leadership Congress & Awards 2018 in which Norhayati delivered a presentation entitled "Wastewater Management: The Future Instincts".
Norhayati whom active involvement in water programs and activities began during her undergraduate years at the Faculty of Civil Engineering, Universiti Teknologi Malaysia (UTM) from 1998-2002, later develops her passion in wastewater treatment processes and engineering during her Master studies at the Newcastle University, England in 2003-2004.
Among her mentors were the late Professor George Kenneth Anderson, whom she consulted for her final year Master dissertation on the assessment of the treatment of acetaminophen-contaminated brewery wastewater by using an anaerobic packed-bed reactor.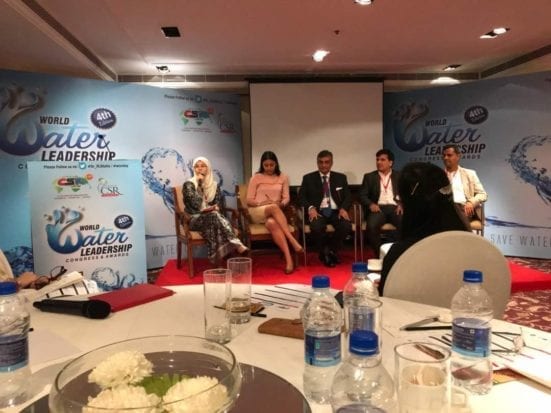 Norhayati obtained her PhD in Biosciences from the Faculty of Biosciences and Medical Engineering (then Faculty of Biosciences and Bioengineering) following a collaborative work on aerobic granulation for the treatment of palm oil mill effluent between UTM and Newcastle University, England in 2012 from which she received the UTM Best Postgraduate Award.
Desperately looking for something to spice up her stultifying PhD routines, she volunteered as the Steering Committee for the Asia Pacific Region under the auspices of the International Water Association (IWA) for two terms between 2010-2014 before being appointed as Chair, from 2014-2016.
Her active participation during her engagement as the young water professional led to her being appointed as the Board of Director and Fellow of the association known for its global membership and world-class events that bring the latest science, technology and best practice to the water sector at large.
Also receiving the Top 50 Most Impactful Leaders in Water & Water Management (A Global Listing) 2018 award for Malaysia was Datuk Ir Abd Kadir Mohd Din, President of The Malaysian Water Association (MWA).
The previous award recipients include prominent names in the water sector such as HE Dr Mahmoud Abu Zeid, President of Arab Water Council Egypt and Samantha Yates, Secretary General of the Global Water Leaders Group.