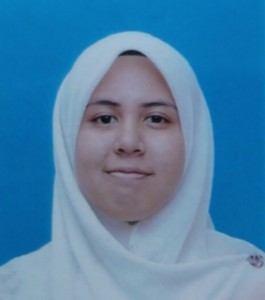 Education Background
· Primary school at Sk Balok, Kuantan (1999-2004)
· Lower secondary school at SMK Padang Saujana, Jerantut (2005-2007)
· Upper secondary school at MRSM Tun Ghafar Baba, Jasin (2008-2009)
· Pahang matriculation college for my foundation in pure science (2010-2011)
· Currently doing my Bachelor of science with education (TESL)
For my practical teaching placement I went to Sekolah Menengah Atas Negeri 2 Yogyakarta (SMA N2 Yogyakarta) with the collaboration of Yogyakarta National University for 1 month and the remaining 2 months I went to Sekolah Menengah Kebangsaan Senai (SMK Senai). At SMK Senai I taught ESL to form 4 students and Physical Exercise to form 3 students.

Qualification working towards
Bachelor of Science with Education (TESL)
Expected completion of degree
July 2015
Research interests
Drama
Applied drama in teaching English
Language games and creative teaching
Publications/Conference presentations
Nordin, N.H., Mohd Nasir, N.D., Azahar, N.A., and Nawi, A.M. (2014) Using Freeze Frame Technique as a catalyst to motivate students' participation in learning poetry in English Literature. Kuala Lumpur, Malaysia: 4th MELTA International Research Conference in English Language Education, 15 Nov 2014.