Hands-on Workshop: Mediation, Moderation and Multi-group Analysis using Smart PLS
Satu bengkel 'Hands-on Workshop: Mediation, Moderation and Multi-group Analysis using Smart PLS' telah diadakan pada 11 Disember 2018.
Bengkel diadakan dengan tujuan untuk memberi pendedahan, menambah ilmu pengetahuan dan meningkatkan kemahiran pelajar, pensyarah dan penyelidik berkenaan mediation, moderation, and multi-group analysis menggunakan Smart PLS yang boleh digunakan dalam penyelidikan dan penerbitan jurnal berindeks.
Penceramah adalah Dr Abdelsalam Busalim.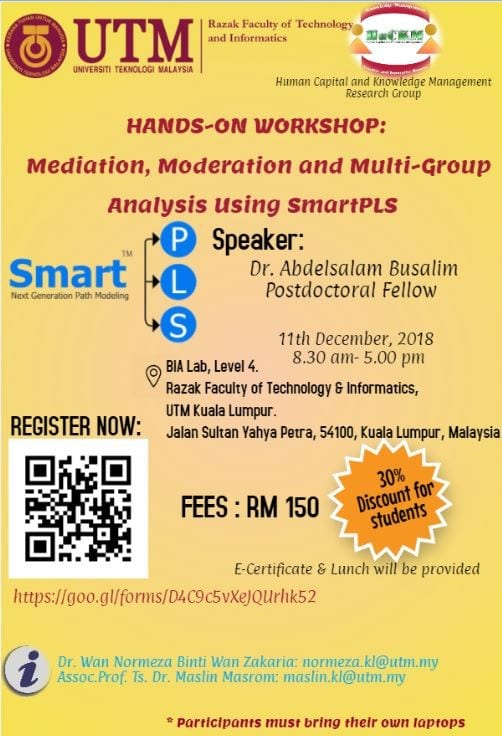 PROGRAM BORDERLESS THINKING
Program Borderless Thinking adalah program libatsama komuniti yang dianjurkan oleh kumpulan penyelidikan Human Capital and Knowledge Management (HuCKM), UTM dengan kerjasama Kolej Vokasional Gombak (KVG). Ia merupakan projek untuk tempoh setahun dibiayai melalui Geran Penyelidikan Tier 2. Peserta program adalah pensyarah-pensyarah KVG.
Program ini diadakan dengan tujuan untuk berkongsi pengetahuan, pengalaman dan kepakaran ahli HuCKM dalam membina  modal insan yang kreatif dan berkeupayaan untuk berinovasi bagi meningkatkan prestasi organisasi.
PROGRAM BORDERLESS THINKING : BENGKEL INTERVENSI
Di peringkat kedua, satu bengkel intervensi telah diadakan pada 9 Ogos 2017, di UTM Kuala Lumpur. Semasa bengkel ini wakil dari setiap kumpulan telah membincang dan membentangkan kemajuan, halangan dan kaedah penambahbaikan projek bersama-sama ahli HuCKM.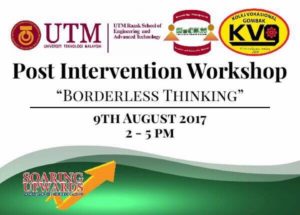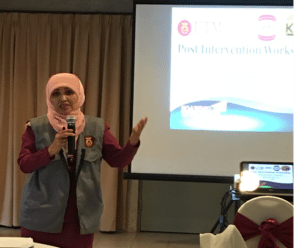 Taklimat Bengkel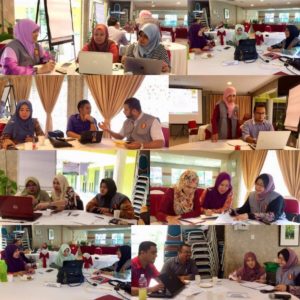 Bengkel Intervensi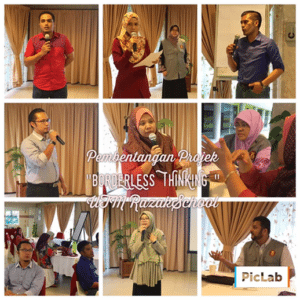 Pembentangan
 3rd INTERNATIONAL CONFERENCE ON HUMAN CAPITAL AND KNOWLEDGE MANAGMENT (ICHCKM 2017)
ICHCKM 2017 was jointly held with SUDLiC and SustaIN under the UTM Razak School International Conference on Advanced Technology (UTMRS-ICAT 2017) on 10th October 2017 at Renaissance Kuala Lumpur Hotel
| | |
| --- | --- |
| Opening Ceremony | Speakers, committee & participants |
| Paper Presentation | Conference Dinner |
ICHCKM 2017 was succesfully organised with the collaboration of Intitut Teknologi Bandung (ITB) and Naresuan University, Thailand.