Attention innovators and researchers!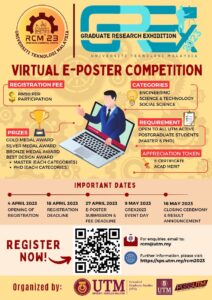 Join 𝗚𝗿𝗮𝗱𝘂𝗮𝘁𝗲 𝗥𝗲𝘀𝗲𝗮𝗿𝗰𝗵 𝗘𝘅𝗵𝗶𝗯𝗶𝘁𝗶𝗼𝗻 (Virtual E-Poster Competition) to your research, engage with peers, and connect with potential collaborators. This competition is opened to all UTM Postgraduate Students (Master & PhD).
Featuring a wide range of topics from:
– Engineering
– Science & Technology
– Social Science
Our esteemed panel of judges will evaluate based on the quality, the clarity, and the potential impact of the research. 𝗪𝗲'𝗿𝗲 𝗼𝗽𝗲𝗻 𝗳𝗼𝗿 𝗿𝗲𝗴𝗶𝘀𝘁𝗿𝗮𝘁𝗶𝗼𝗻 𝗻𝗼𝘄! 𝗛𝘂𝗿𝗿𝘆, 𝗿𝗲𝗴𝗶𝘀𝘁𝗿𝗮𝘁𝗶𝗼𝗻 𝗰𝗹𝗼𝘀𝗲𝘀 𝗼𝗻 𝟭𝟴𝘁𝗵 𝗔𝗽𝗿𝗶𝗹 𝟮𝟬𝟮𝟯.
Join us in celebrating innovation and research excellence at UTM's Graduate Research Exhibition on 9th May 2023. Register here:
Date: 9th May 2023
Time: 09.00am – 05.00pm
Venue: WebEx Virtual Platform
Registration deadline: 18th April 2023
Don't miss out on this opportunity to showcase your research and take your career to new heights